School Nutrition / Food Menus
Nutritional Information Provided for Special Dietary Needs
| | |
| --- | --- |
| Cereal | 22-25 carbs |
| Fruit | 16-19 carbs |
| Milk | 13 carbs |
| Cheese stick | 1 carb |
| | |
| --- | --- |
| French Toast | 000 carbs |
| Fruit | 16-19 carbs |
| Milk | 13 carbs |
| | |
| --- | --- |
| Oatmeal Squares | 000 carbs |
| Fruit | 16-19 carbs |
| Milk | 13 carbs |
| | |
| --- | --- |
| Egg Scramble | 000 carbs |
| Toast | 000 carbs |
| Fruit | 16-19 carbs |
| Milk | 13 carbs |
| | |
| --- | --- |
| Cereal | 000 carbs |
| Yogurt | 000 carbs |
| Fruit | 16-19 carbs |
| Milk | 13 carbs |
| | |
| --- | --- |
| Chicken Nuggets | 16 carbs |
| Mac & Cheese | 28 carbs |
| Pears | 19 carbs |
| Milk | 13-19 carbs |
| Carrot Sticks | 6 carbs |
| | |
| --- | --- |
| Cheeseburger | 29 carbs |
| Potato Wedges | 19 carbs |
| Peaches | 16 carbs |
| Milk | 13-19 carbs |
| Carrot Sticks | 6 carbs |
| | |
| --- | --- |
| Shepherds Pie | 30 carbs |
| Roll | 30 carbs |
| Carrot Sticks | 6 carbs |
| Pears | 19 carbs |
| Milk | 13-19 carbs |
| | |
| --- | --- |
| Burrito | 40 carbs |
| Spanish Rice | 14 carbs |
| Applesauce | 16 carbs |
| Milk | 13-16 carbs |
| | |
| --- | --- |
| Corn Dogs | 30 carbs |
| Broccoli | 4 carbs |
| Mixed Fruit | 17 carbs |
| Milk | 13-19 carbs |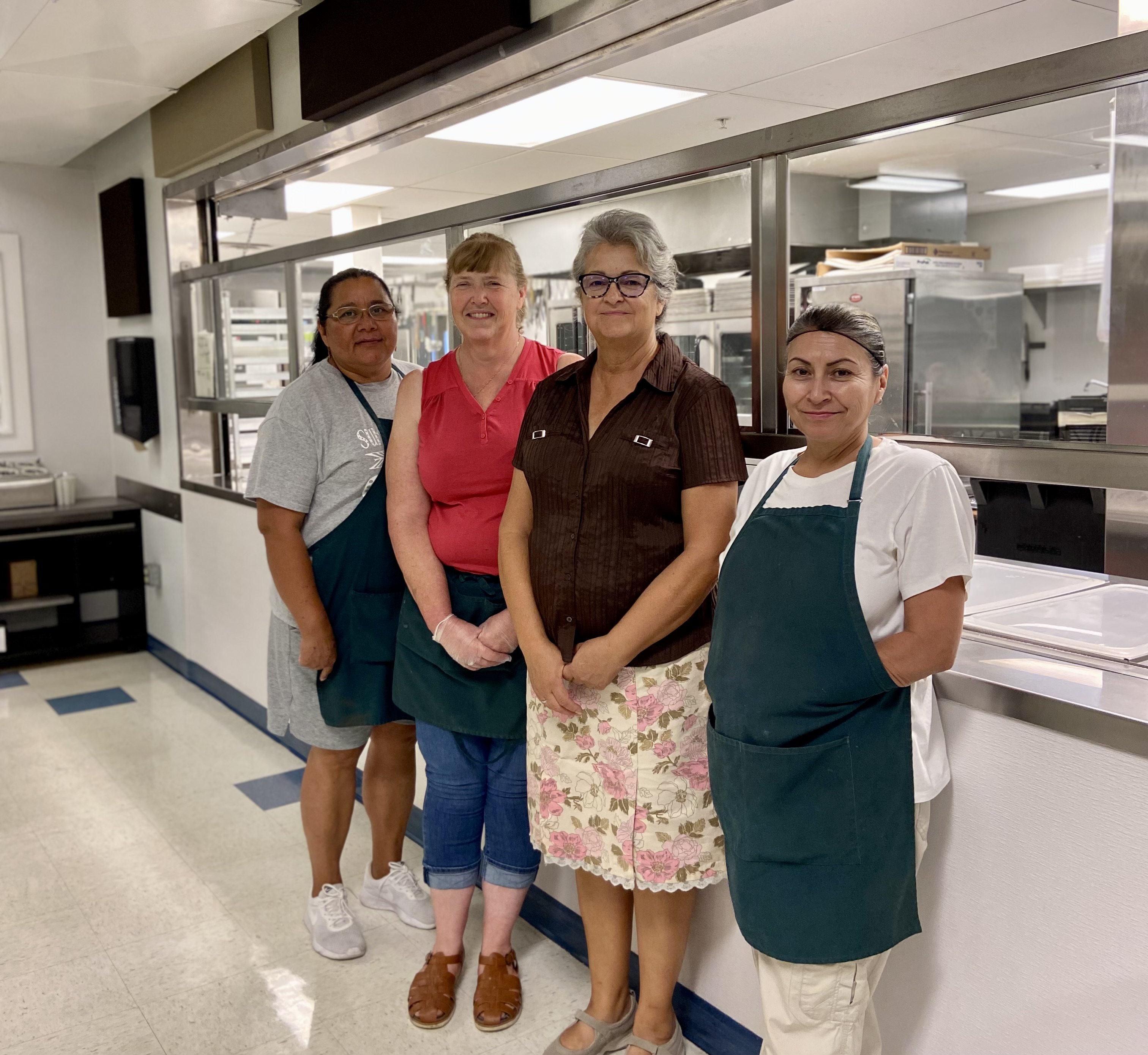 Our fantastic cafeteria crew.
Non-Discrimination Statement
Non-Discrimination-Statement-English
Non-Discrimination-Statement-Spanish
School Meal Program
Wilder School District is announcing its participation in the Community Eligibility Provision for the school year 2022-2023, All children will receive free meals, both breakfast, and lunch, under this provision at Wilder Elementary, Jr. and Senior high school

The school MAY share your eligibility information with education, health, and nutrition programs to help them evaluate, fund, or determine benefits for their programs, auditors for program reviews, and law enforcement officials to help them look into
violations of program rules.

This institution is an equal opportunity provider

Wilder School District provides breakfast and lunch meals free of charge to all enrolled students.
If you have any questions, please contact Food Service/Linda Ward at 208-377-7400, ext. 1406.